Sample Coach Introduction Letter to Parents
Just copy, paste, edit and send!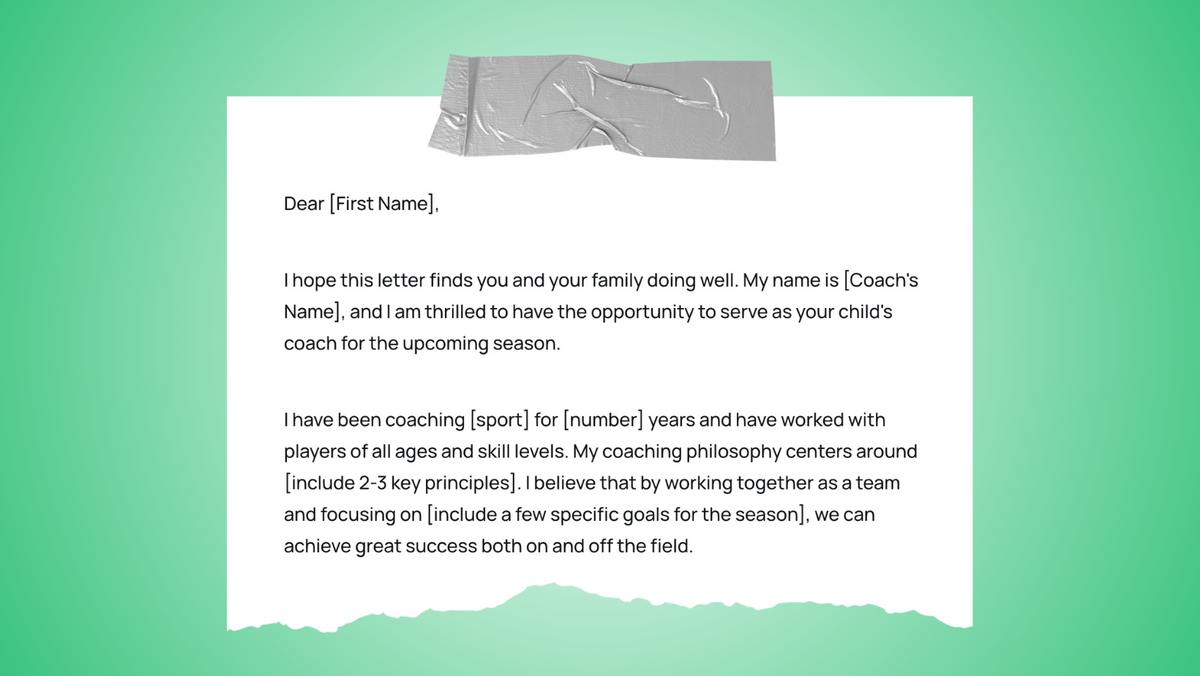 Dear [First Name],
I hope this letter finds you and your family doing well. My name is [Coach's Name], and I am thrilled to have the opportunity to serve as your child's coach for the upcoming season.
I have been coaching [sport] for [number] years and have worked with players of all ages and skill levels. My coaching philosophy centers around [include 2-3 key principles]. I believe that by working together as a team and focusing on [include a few specific goals for the season], we can achieve great success both on and off the field.
In terms of logistics, our practice schedule will be [include practice schedule], and our game schedule will be [include game schedule]. I ask that all players arrive at practice and games on time and ready to work hard and have fun.
I would like to remind parents that if your child is sick or unable to attend practice or a game, please let me know as soon as possible. This will allow me to adjust our plans accordingly and ensure that the rest of the team is prepared.
Additionally, I would like to extend an invitation for all parents to attend games and cheer on the team. However, I kindly request that parents refrain from verbally coaching their child during play. While it can be tempting to shout instructions from the sidelines, this can be distracting for the players and may cause confusion or conflict. Instead, let's support the team with positive encouragement and cheers from the sidelines.
If you have any questions or concerns throughout the season, please do not hesitate to reach out to me via [email/phone]. I am committed to open communication and am always happy to discuss any issues or concerns that arise.
I am looking forward to a fun and successful season, and I am excited to work with your child and help them grow as a player and a person. Thank you for entrusting me with this important responsibility.
Sincerely, [Coach's Name]